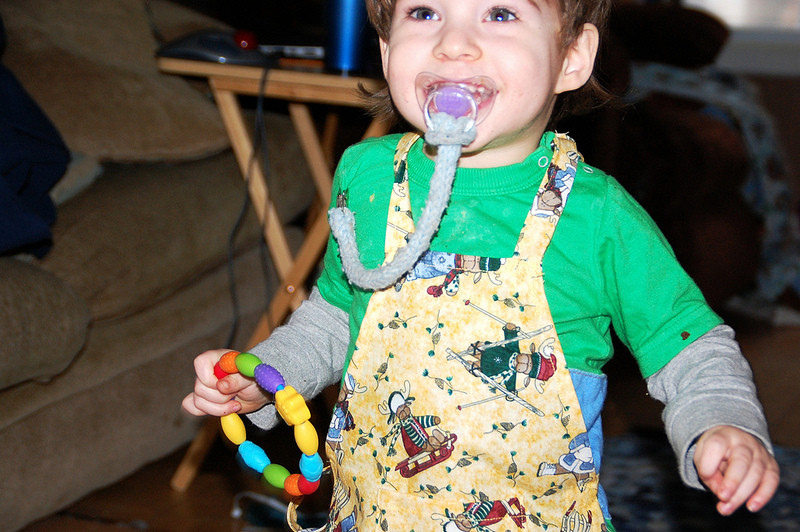 Toddler Owen is a talented and versatile fellow, so much so that he's started taking on some household tasks. He's our go-to man when we need something put in the recycling bins, he's an enthusiastic dishwasher unloader and laundry putter-awayer, and he's developing quite a knack for noticing when we've forgotten something on the way to day care. "Hat?" he told me this week when I'd forgotten a key part of his winter outfit. Sonya quickly brought one outside, but we weren't finished. "Hat?" he said again, pointing at my head. Obviously I wasn't ready to go out into the cold.
Yesterday, Owen also made his first breakfast request: while eating some oatmeal, Owen said, out of the blue and very clearly, "Pancakes?" This, plus his growing interest in watching me cook – convinced Sonya and me that Owen was ready to add another skill to his repertoire: chef. Sonya headed upstairs to her trusty sewing machine and put together an Owen-sized apron, while the little man and I went back into the kitchen to make some cookies.
Owen's job was to pour all the ingredients into the mixing bowl, which he did with great enthusiasm and only minor spilling. He did occasionally wonder why we would put two cupfuls of, say, sugar into the bowl, but only one of cocoa – I guess it's not fair to the lesser-used ingredients? And he was very intrigued watching through the oven window, seeing the balls of cookie dough flatten out into cookies. Of course, eating the finished product was even more fun than the cooking, as was putting the extra cookies into the new cookie jar I got this week:

Also developing more and more: O's penchant for telling jokes and being silly. This week he learned how to talk like a pirate – from "yaaaarrrr" all the way to "matey." And last night he decided to walk around in Mama's slippers, waiting for (and receiving) a big reaction from his audience.
O's newfound independence and sense of humor should come in handy this week – Sonya is away for most of the week at a work conference, so it's just the two of us manning the farm for a few days. I have a feeling there are more slippers, and probably more cookies, on this week's schedule.
(Visited 4 times, 1 visits today)