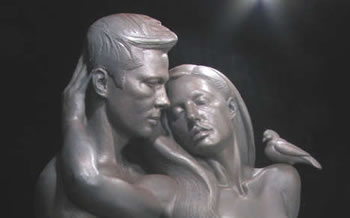 Looks like Daniel Edwards is back at it – sculpture, that is. You may remember gagging at his sculpture of Britney Spears giving birth on a bearskin rug; well, the new piece is a portrait of a nude Brad Pitt fondling a nude Angelina Jolie, while a nude bird (Woodstock?) watches and drools nearby.
Now I don't have the skill to shape a clay ball, much less a 25 foot tall Fidel Castro, but this does seem like fun, making off-putting representations of celebrities and adding animals in there for the heck of it. So I came up with a few ideas for future Edwards projects, and am willing to spend up to eight dollars of my own money to see them come to life:
1) "Endsville Sinatra" – a nude Frank Sinatra sits at a bar just before closing time. Nursing a drink, a cigar and a broken heart, Frank is alone, except for the Sumatran rhino two seats away, downing an Amstel Light and several Buffalo wings.
2) "The Butcher, The Baker, The Candlestick Maker" – a nude Joe Don Baker watches the NBA All-Star Game next to Martha Stewart (also nude) and a hungry tiger shark (wearing a sweater and earrings, but no pants).
3) "Julie and Julia" – a nude Julia Child is chained to a nude Julie Andrews, who is singing the "someone left a cake out in the rain" section of "MacArthur Park." Child is holding a wet, soggy cake, but she's smiling because sometimes you can still serve a soggy cake to your guests if you simply reheat it with a little corn starch and serve with plenty of creme fraiche. A North Atlantic Right Whale is nibbling on the cake.
Should I order the clay now, or wait until the new year?
(Thanks, TrendHunter)