"Political" is one way to describe Face's high-profile interview; another would be "talking with a giant chicken."
Ok, here's something I noticed this week: Why is Dirk Benedict the only team member who doesn't have his character's name included in the in the credits? George Peppard stars as "John 'Hannibal' Smith," and we always see "Mr. T as B.A. Baracus." Dwight Schultz is often (though not always) listed as "Howlin' Mad Murdock"; heck, even Lance Legault has "as Col. Decker" on there. But no "as Face"? Do you think Dirk Benedict was ever upset about that, or did it just roll off his well-sculpted back?
---
Mind Games
Wild Guess Preview: After yet another close call with the A-Team, long-suffering Colonel Decker decides to rest and regroup by playing in the world championship of his favorite board game, Stratego. Decker steamrolls his way to the finals but loses to a grizzled and mysterious stranger, who's so impressive Decker hires him to help catch the A-Team. Except that the stranger… is Hannibal! (Maybe I'll write a Season Six of the A-Team just to help everyone along.)
The Recap: "Please stand by. We have an important announcement regarding the A-Team." So says a news anchor, for breaking coverage of a Pentagon briefing from Colonel Donald Davis. TV news was a lot more in-depth back then. Davis says the government has new information about the team's alleged crimes, and therefore they're pardoning Templeton Peck. The van lurches to a halt as the team hears this shocking news. "What can I say, guys?" says a very relieved Face.


The new scrounger scrounges for tips on scrounging.
They head to a hotel room and watch TV to catch the testimony of one Colonel Harold Miller, who says Face was just a passenger on a transport and not really part of the team. "Does it bother anybody that this bald-headed bird Colonel is flat lying?" Hannibal wonders. "Face was assigned to us, he was second in command and supply officer." Face finds freedom tempting, though, and he says "assigned" is a fuzzy word. The team doesn't like that, but hey, Face is getting pardoned! "Or set up," Hannibal warns. He has his lawyer check to see if the pardon is real. B.A. and Murdock are moping because Face won't be in on their missions anymore. "If Faceman does leave, why can't I be the new scrounger?" Murdock asks. "New hair, new threads, I could drive the 'Vette…" Face interrupts: the Corvette is staying with him.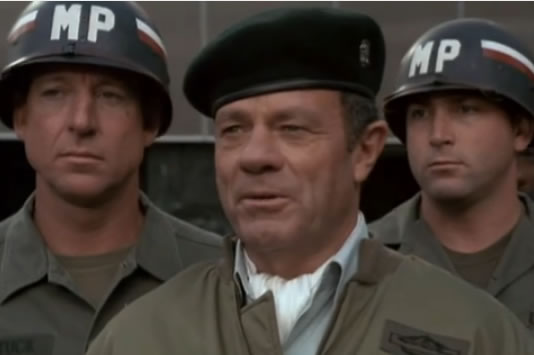 Meet the new boss… a few inches shorter than the old boss
Now we meet General "Bull" Fulbright, who's mad as hell that the damn government is going to give a damn pardon to a damn member of the damn A-Team. He says "Decker was soft" on catching the team – uh, not exactly, dude – and because of that Decker has been reassigned to Bangor, Maine. Dang, Decker's out? His anger aside, the general is going to use Face's pardon to find the rest of the team. "Fulbright's Law," he tells his flunkie. "Never wait. Attack."
Face is an adherent of Fulbright's Law, or at least the "never wait" part: he's already packed and ready to rejoin the world, even though Hannibal wants him to go slow until they figure out exactly what the catch is with this pardon. Murdock asks Face for any tips on how to "fill your able but slimy shoes." Face wishes everybody well, and vice versa; he even gets a strong hug from B.A. and then he's out the door to get his pardon. Hannibal is worried: "He's walking into something, I know it!"
He sure is; a Chinese crime boss named Chow wants his thugs to bring Face to him immediately, regardless of cost or difficulty. He has some kind of grudge against our Faceman, but he doesn't say what it is. Chow is played by James Hong, who also played crime boss Wan Chu in "The Maltese Cow."
Face heads over to a government building to get his pardon, but first he has to run a media gauntlet, where he has to describe an underground tennis club he started while stationed in Vietnam. Fulbright is on hand, and he tells Face he'll squash him in due time. Face recognizes the general, he even knows his nickname: "The terror of Toledo." Fulbright says Face is "garbage… that got wrapped up in a nice package." Face walks on and heads into the building, where he meets a British PR lady called E.G. Fowler. She wants to be his agent and line up book deals, TV appearances and the like. Face says "Throw in a dinner for a hungry boy and you got yourself a deal." Some guy walks up and says "the governor is waiting." The governor can pardon military crimes?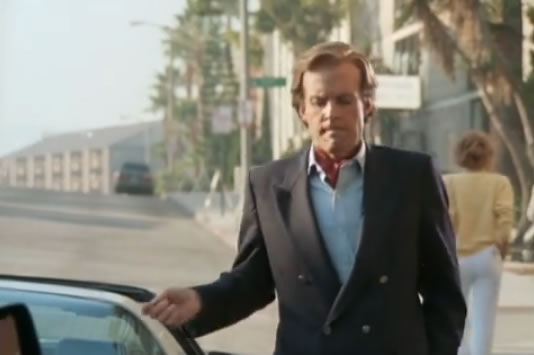 Murdock enjoys the new active lifestyle with his new hair!
Hannibal and B.A. are reading a newspaper account of Face's war exploits, which have somehow expanded so that Face was in charge of the team and leading them to greater glory than ever before. "Hey Hannibal, what were you doing when all this was happening?" B.A. asks. "I guess I was having cocktails at Face's tennis club," Hannibal laughs. They also note that Face is now writing a memoir about his life on the run, "Pecking Away At The System." Just then Face's Corvette pulls up… but it's Murdock who's inside. A suave and smartly dressed Murdock, who complains about having to meet up with the team because he was out on a date. Ha, Murdock is doing a pretty good impression of Face here. His new name is "Hunkman."
Face is on a hotel balcony, talking with E.G. Fowler, and his newfound fame is really going to his head; he even wants to do away with the Face nickname! E.G. says actually he's changed his name a few times: "Alvin Brenner, then you had it legally changed to Al Brennan, then to Al Peck. Then to Holmes Morrison, then to Morrison Holmes, and then to Templeton Peck." She's had a writer doing some research for the book, you see. That's not all that's in the works: Templeton has a guest shot booked on the kids show "Barnyard Ballyhoo"… and he's putting the moves on E.G., too.
Murdock/Hunkman is having less luck: he tries hitting on a lady running a deli truck in the city, but his best pickup line ("I love fish… especially the whales") doesn't go over well. He explains to the others that they don't have breakfast because she got "an emergency call," but B.A. gets the real story: "You came on to her and she took off with our breakfast!" Templeton and E.G. drive by in a red convertible, so it's time to follow. Hunkman, as befitting his new role, has to take the Corvette, though he admits to himself "this is getting to be tiresome."
Trouble is, they aren't the only ones following Face: a guy named David Vaun (played by David Hedison, known best as Felix Leiter) and some guys in suits are tracking him too. And so we have a chase scene on our hands; Hannibal shoots out two of their cars, but eventually the van is boxed in and they have to surrender. Hannibal looks on the bright side: "We can see what they've got for lunch."
The suit guys drive the awesome van, with Hannibal and B.A. inside, to a parking garage owned by Limelight Homes. Vaun makes a serious face and tells them not to mess around with other people's business. That's all? Not quite: "sit on 'em," he says to his goons, but Murdock is on hand and disarms all the dudes by himself. "Murdock, for the first time I'm glad to see you!" B.A. says. "That's Hunk, or Hunkman to you." They drive off.

Murdock is fluent in Henry Kissinger. Who knew that was even a thing?
Hunkman grabbed the ID from one of the muscles before departing, and it's as bland as a CBS prime time drama. "They're government spooks," Hannibal says with a sigh. Then he remembers that Face's publicist is working for Limelight Management; it couldn't be a coincidence that they were brought to Limelight Homes. Murdock gives them a ring for information, though he can't resist (poorly) hitting on the operator. Hannibal wants to make the call now, but Hunkman begs for another chance; "I can do voices just like Faceman!" he says, and he demonstrates several, including Sylvester the Cat from Looney Tunes and Bullwinkle Moose: "I'm knee-deep in pretzels!" This is jaw-dropping in its incomprehensibility, so I love it. Hannibal doesn't buy it until Murdock trots out his Henry Kissinger voice: "That might work, try it."
And it does! The receptionist can't believe it, "Henry Kissinger wants to talk to Templeton Peck!" David Vaun answers and explains that Templeton is giving an interview this afternoon and maybe they could call him there. And yes, he's a CIA guy… great. Hunkman reports back that Face is "at the Vine Street Studio… some kind of big political interview."

Face is Peckin' Away At The Truth
"Political" is one way to describe Face's high-profile interview; another would be "talking with a giant chicken." The team stops by, and things are a little awkward; Face doesn't want to hear about the CIA taking them hostage in the parking garage, he wants to talk about what a bigshot he's becoming, how he gives out autographs and gets to date pretty ladies and talk to interesting people. "Like that big chicken there," Hunkman says. B.A. starts leafing through Face's memoir/screenplay, and notes that Hannibal's been written out completely. Face sidesteps Hannibal's warnings about being in danger by saying "all my antennae are up," though the second he steps outside, the Chinese mafia guys grab him and stash him in a helicopter. Sigh.

"And once you tell us where Face is, you're going to apologize for 'License to Kill'"
The team doesn't know there's a Chinese mafia involved yet; they think it's all a CIA deal. Hannibal drops by Limelight Realty to confirm it's a CIA front and that David Vaun is there. Vaun tells one of his associates that Chow is holding Face at a farm in Valencia, and that if Chow is killed in the shootout, so much the better. As for Face, "he's nothing but the cheese in the trap." So they're not trying to catch the A-Team? The team catches up with Vaun at an apartment, where B.A. dangles him out the window until he explains that his secret CIA unit, "The Shop," is trying to bring in Chow, the Vietcong general who's now in the country. "General Chow hated violently a man named Templeton Peck," he explains. Murdock remembers that Chow's daughter worked at Face's tennis club in 'Nam, and that the general somehow got it in his head that Face "dishonored her." Hannibal says no, "I was there – he never touched her." Vaun says the facts don't matter, "we had to get Peck above ground so we could see what would happen." Now Chow has him at a ranch in Valencia; they know this because they put a homing device inside the manuscript of "Pecking Away At the Truth." Hannibal notices something under a sheet; whoa, it's a jetpack! Oh, Face's business manager, E.G., is there too, because she's a CIA agent, and she says she wants to help too. So I guess we're all friends now?
The team heads to the farm in Valencia, and Murdock's got the jetpack on. Hannibal's got a plan: "who said, 'only use the air to create areas of opportunity on the ground'?" Murdock guesses Patton, but B.A. has the right answer: "It was football coach Woody Hayes, fool!" B.A. should totally host a game show: "Time is up! The correct answer was 'Sir Isaac Newton,' fool!" Murdock's going to distract the chopper by flying around in the jetpack.
Chow finally gets to meet Face, and gives the usual spiel about how he has waited so long for this moment. Face is confused: "I hate to appear rude, but who the hell are you, sport?" Ha! He explains he's General Chow and that Face knew his daughter. "I go by the name of Byron Fong now," he says, and if a name like that doesn't creep you out, nothing will. Face says he didn't touch the guy's daughter, and even if he did, it was not that big a deal, and geez, honor killings are so "unhip." Chow points his gun at Face's eyeballs. "Oh, boy…"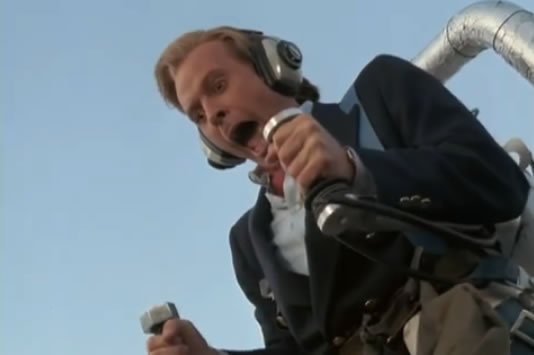 It's a bird! It's a plane! No, it's Hunkman!
But here comes your airborne distraction! Murdock is flying the unfriendly skies in a CIA jetpack, dropping grenades on Chow's lawn. Hannibal and B.A. use this opportunity to come out a-shooting, and while he does, Murdock bursts through the window, punches Chow out and rescues Face. "Murdock, listen, I never touched his daughter, really," Face says. Murdock: "Put it in the book, Templeton." They head to the chopter with Chow over Murdock's shoulder; the CIA dudes swarm in and take out Chow's men as the team flies away.
More TV: the team watches as a news guy reveals that, thanks to E.G. Fowler's testimony, David Vaun has been convicted of "crimes against the government" and won't be working for The Shop anytime soon. "Which leads us to the last part of this story: what of Templeton Peck?" Unfortunately, the pardon was not signed by the correct agency (I think the correct agency is called the President) and so that's that. B.A. says he's glad to have Face back; having Murdock hitting on women was too much to handle.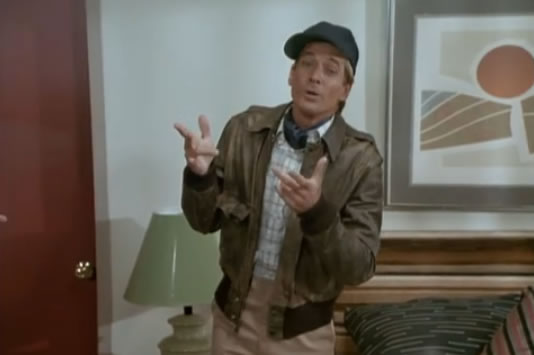 Dirk Benedict is Tony Danza portraying H.M. Murdock
Face arrives with E.G., she says she wants to make it up to him about the pardon, but Murdock wants a little of that action too, and so the two teamers are trying to ask out the same dame. Murdock wins this round with a pair of ballet tickets. "Look, Murdock, I want you to stop being me!" Face says, getting red-faced, but Murdock says not on your life. "Well, how would you like it if I took your personality?" "You couldn't," Murdock laughs. "I'm too complex." Face puts on the bomber jacket and the baseball cap anyway, and starts doing a decent manic Murdock impression. Of course, this is the moment that the VA's whitecoats show up and get "Murdock." Hannibal laughs his tail off at the mistaken identity as we wrap up for the week.
I LOVED the premise here; it got a little bogged down trying to introduce faction after faction after faction, but things kept moving and stayed interesting. And Murdock and Face switching places was very clever, too.