Strange statues I expected when my family and I set out on this little jaunt through eastern New York state. Historic districts I expected. But gummi fish? On a president's gravesite? It's a groovy mystery, gang!
Day one of the trip began with a visit to Bennington, Vermont, to see a statue of Abraham Lincoln that is simply not to be missed. Hang on tight, people…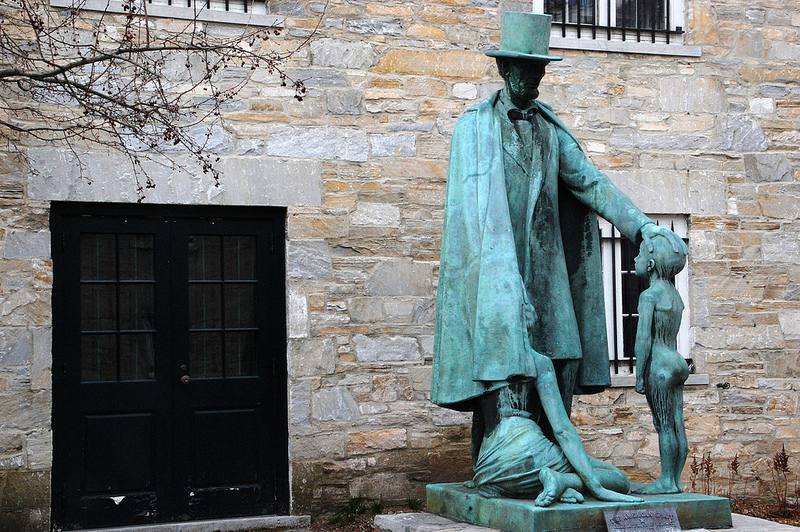 This is not – I repeat, not what you might think. Lest you walk away from this wondering if the Great Emancipator needs to register with the county or something, this statue is actually three statues in one, sculpted at different times by Clyde Du Vernet Hunt. The small boy was originally made after World War I; he was to represent the children who would rebuild France, but in this context he represents the hope of "young America." The young woman, originally called "Nirvana" to transcend the Great War's violence and horror, now stands – er, sits – for Faith. Hunt sculpted Lincoln a number of years later; he represents Charity – as in "with malice toward none, with charity for all."
But let's be honest, today we don't look at this statue thinking of Faith, Hope and Charity, but as people trying to figure out if the mandated reporter laws cover statues. Perhaps that's why a staffer at the Bennington Museum, where the statue is housed, noticed I was taking photos of the piece and raced out to hand me a write-up about the statue. "It's very easy for people to misunderstand this piece," she told me. "I can believe that," I said.
Before we left I checked in with some Albany natives on Reddit for travel tips, and they all said "Uncle Sam's grave is in Troy, go see it." So we did – and they were right, it was an absolutely lovely spot.
So was our next destination – Albany Rural Cemetery, the final resting place of president number 21, Chester Arthur. I've always thought Chet's grave was the coolest one of any president – nobody else has a weeping angel above the tomb, after all – and now that I've been there I'm even more convinced. The cemetery itself is just what you'd hope a cemetery to be – peaceful and very beautiful.
Except for the gummis on the tomb, just a few inches from Arthur's presidential seal. Why would someone do that? It's not like he's going to eat them, after all. We weren't able to solve the groovy mystery, but we did dispose of the nefarious candy so that President Arthur could go back to resting in peace instead of sleeping with the gummi fishes.
Our final stop of the day was the state capitol building in Albany, New York – a really ornate and really vast building, at least compared to what we're used to in New Hampshire. The floors and walls and support pillars were all covered in intricate designs and bright colors. We weren't visiting the capitol for this project, but it wound up being helpful for the project anyway – the capitol has a Hall of Governors which features portraits of each gov, including the four presidents who had also led the state. (Also on the list: two dudes who came plenty close to winning the White House – Samuel Tilden and Thomas Dewey.)
It's great to be back on the road. More stories to come very soon!
(Visited 42 times, 1 visits today)