"I won't mess up – and even if I do, it's only two dollars."
You have to love the honesty in this ad for a community college hair salon. Pretty much every other commercial in the world promises you the best product or service ever. This one says, look, it's a two dollar haircut, you get what you get. But we'll try hard, and we won't yell at you.
There's a lot of information in this short commercial, so let's step back and look at it again, starting with the wide range of haircuts available:
Interesting choices to highlight: instead of focusing on modern looks, this commercial states that for two dollars, you can look like Bowser from Sha Na Na, Moe Howard or Jaromir Jagr. Stylin'! Also notice there aren't any women's styles featured, so ladies, if you've ever wanted to start your own skiffle group, drop by for the Teddy Boy and soon you'll be singing about the Rock Island Line line you were Lonnie Donegan himself.
I wonder what haircut this guy's going for. Maybe the Slick-Back?
I think every town has a guy like this – the aging rocker with the wild eyes. The camera may be filming a commercial, but in his mind, he's starring in a badass metal video. He dares you to come closer, closer to the visions of the wild life…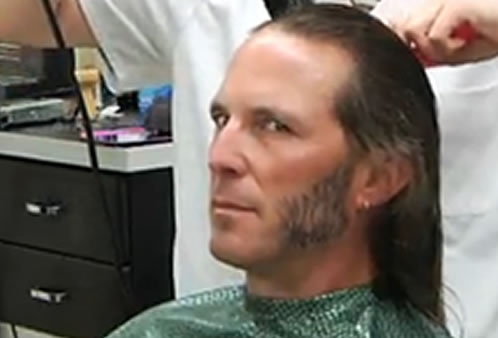 Ok, maybe too close.
AGH, DEFINITELY TOO CLOSE! It's a little-known fact that all male mannequins grow beards. Most of them shave every day, which is why you don't see it. This mannequin is actually San Francisco Giants closer Brian Wilson, which means yet another reason to "fear the beard."
And speaking of fear, look at what they're doing to this woman: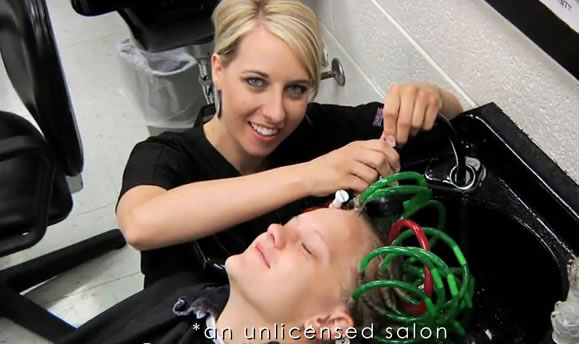 This woman used to have hair. Now she has red and green bike locks attached to her head. Soon the bike locks will be replaced with needles, and she will become…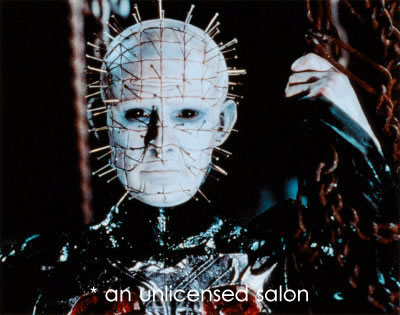 "I won't turn you into a horror movie villain – and even if I do, it's only two dollars." We need more commercials like this one, and we definitely need more salons like this one. Keep a chair open for me, gals, next time I'm in Salt Lake.
(Visited 71 times, 1 visits today)