We're starting 2013 with the stuff we didn't get done in 2012, or even 2011. Last winter we booked a sleigh ride at Charmingfare Farm in Candia, hoping to get out in the snow with a horse team and really enjoy some old-fashioned winter fun. Only problem was, we never really got any snow last winter. Instead, we got a rain check and a hope that this year would be a little snowier. Fortunately, we got a little snow on Christmas Day itself and a lot the following week, which put us on the phone to (finally) make our reservation.
As you can see from the photo above, Owen's chief interest was in the animals – cameras and pictures just aren't that interesting when there's a horse team around. The sleigh ride takes visitors through the whole menagerie of animals – some you'd expect on a farm, like sheep and cows and donkeys. Some are a little more out there – they have a camel, wolves and at least one black bear. The cows paid the most attention to us as we meandered down the wooded paths.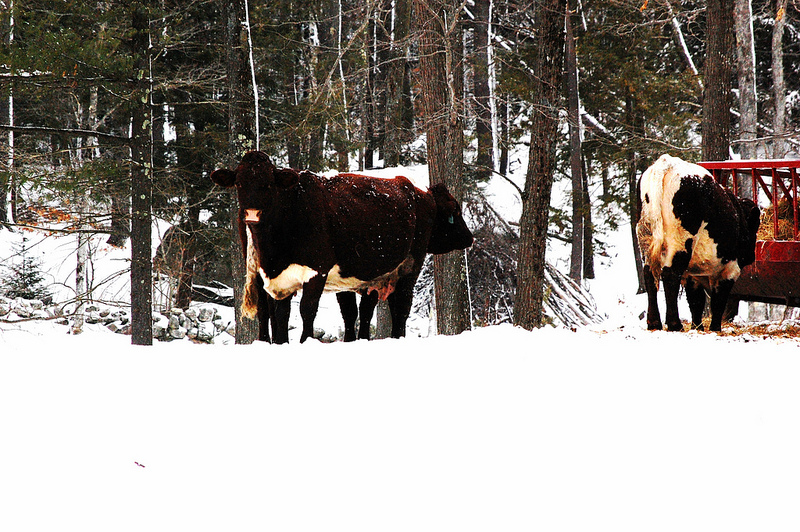 The trip comes in three stages: a half hour ride through the farm, a half hour at a picnic area, and a half hour ride back. The picnic area has an open fire and lots of sticks for cooking hot dogs or marshmallows or whatever you like. We brought some Christmas pound cake sent by friends and some hot cocoa and tea. It started snowing again on our way in, which was beautiful but cold; we had to get right close up to the fire to get warm.
New Year's Day brought me more unfinished cooking business. Last year I'd made a big pizza and a strawberry pancake pie for our first dinner of 2012 (or our last dinner of 2011, I forget which). The pizza was good but the crust was kind of poofy, and the pancakes were too flour-y and cakey in the pancake pie, so I wanted to try again this year.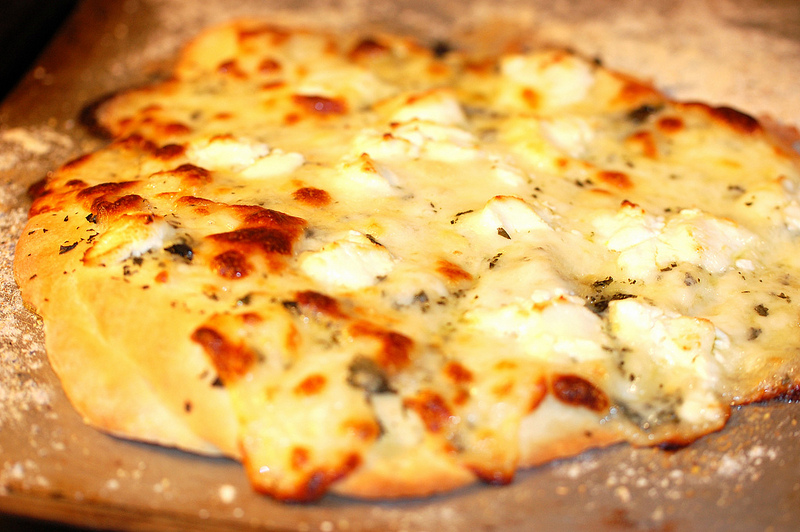 Instead of using bread dough for the crust, as I usually do, I tried an all new recipe: pizza margherita, which makes for a thinner, crispier crust. It also calls for the cook to heat the oven to 500 degrees, which is a slight gamble in that heating the oven at any temperature, much less 500, could set off the inconveniently placed smoke detectors. I turned a floor fan on full blast and hoped for the best – and that's actually what we got. Crispy crust, good texture and no smoke alarms! My official taste tester gave it a positive review.
The pancake pie went better this year as well – the pancakes were not uniform size, so I wasn't sure it would stand up at all. But it held on thanks to thick and gooey custard and lots of sweet strawberry goo. My taste tester was too full to review the dessert, but I thought it was good.
Now on to more mundane unfinished business. Sonya is catching up on a backlog of craft projects, from cat toys to duct tape wallets. I am cleaning out the back den, where we stored almost everything we own during the renovation project, so that we can get our fireplace cleaned. Here's what it looked like as of yesterday:
As for Owen? He's starting a career as a toddler tech writer, it seems. Here's his home office:
(Visited 1 times, 1 visits today)