How disturbingly fitting that the events of April 14th, 1865, the highest drama in the history of American crime, should take place at a theater. And since visitors are technically just staring at an empty auditorium when they drop in, Ford's wisely plays up the drama throughout the tour. So much so that I thought I heard the Law and Order "cl-clank" noise as I walked through – it was probably just the gift shop computer accepting a credit card, but the feeling was still there.
Of course, John T. Ford has run into plenty of drama at his theater long before Abraham Lincoln's party of four dropped in. After leasing the old First Baptist Church in 1861; Ford spent ten thousand dollars to renovate the place, lost it all and then some in a fire, and rebuilt again – then it burned down, fell over and sank into the swamp. (Just kidding) By 1865 Ford was not only back in business, he was thriving… and then the president shows up to see Our American Cousin.
The theater walks you through the events of the assassination, starting in a basement museum featuring the suit Lincoln wore to the theater and John Wilkes Booth's Derringer. Visitors walk through a hallway that shows, side by side, how Lincoln and Booth each spent the day, which is quite effective at building up the anticipation. By the time you get to the theater itself, you can imagine the murder playing out in front of you:

They say the presidential box has been maintained to look exactly as it looked that night, and that nobody has gone in since. Do the cleaners at least go in? That I don't know, but I do know that seeing the interior of the theater helped explain a little of why Booth managed to injure himself on the way down. The box is at a funky angle to the stage, and with a drop of 12 or so feet, it's a surprise Booth didn't break both his ankles.
I found my visit to the theater tremendously instructive. But in the interests of equal time, here's a review from Yelp: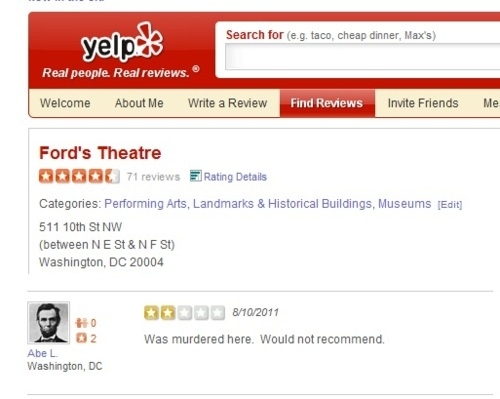 Tickets to Ford's also include a trip across the street to the Petersen House, where Lincoln spent his final hours preparing to belong to the ages.
This slideshow requires JavaScript.
(Visited 49 times, 1 visits today)