Wolfram Alpha is just talkin' 'bout Shaft? Yeah, I can dig it!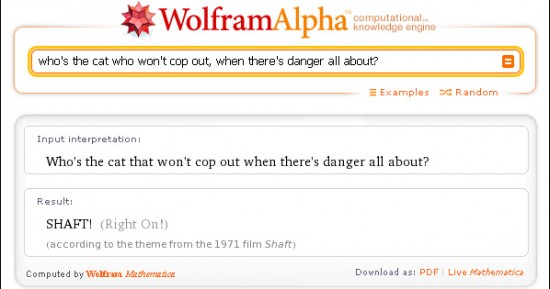 The Wolfram Alpha people said their site would be a big step forward, but I didn't realize it would be quite this big. Shaft is a huge icon in the blaxploitation pantheon, but in the end he is just that – one icon. Can Wolfram Alpha get down with some of the other greats of soul cinema? Let's find out. Introducing the Wolfram Alpha Blaxploitation Trivia Challenge!
We'll start with a fairly easy one. What does "Trouble Man" say are the only three things that are for sure?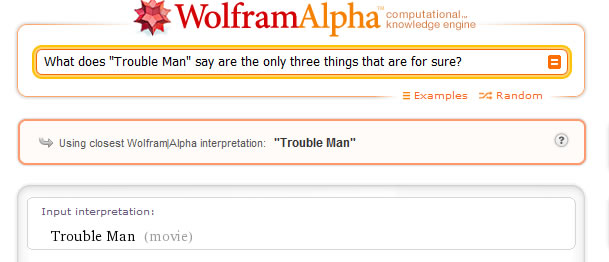 Looks like this one didn't register. The correct answer is, of course, taxes, death and trouble. Which is what Wolfram Alpha is in already in this trivia contest.
Maybe it hasn't seen that movie – maybe Wolfram is more a Fred Williamson fan. Next question: The black godfather is back. Where will hell be up in?
Ah, another strike! The correct answer is Harlem, as in "Hell Up in Harlem."
Maybe Wolfram Alpha is starting slow because of nerves? You'll bounce back, buddy. Here we go with another question: In "Three the Hard Way," how did the white supremacists plan to kill off the black population?
Dang, no answer. The correct response was poisoning the water supply. I'm starting to think this isn't going to go well.
Just a couple more – we don't need to drag this out, after all. Next question: According to Curtis Mayfield, what was the aim of Superfly's role?
Sorry, but the aim of Superfly's role was not Curtis Mayfield, it was to move some blow.
I had such high hopes… ah well. Last question: What is Black Belt Jones' favorite fast food restaurant?
Unfortunately, no. Though a Black Belt Jones Restaurant chain would be phenomenal, the correct answer is McDonald's, as we noted in our Black Belt Jones review from a while back.
So Wolfram Alpha got zero out of five blaxploitation trivia questions right. Too bad – but hey, if you ever want to come over and watch some of these movies and then retake the quiz, well come on by! I don't know what kind of snacks a search site would like. But I guess I could ask, couldn't I?
So it's settled then. Wolfram Alpha will come over to my house for movies and we'll eat its house while we watch. As Isaac Hayes would say, right on!