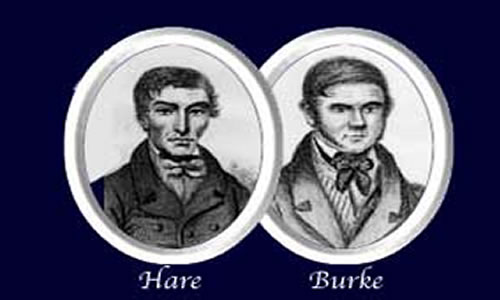 Has there ever been a movie or series named for somebody who then wasn't the lead character? "Kojak" had a character named Kojak; "Cagney and Lacey" was indeed about characters Cagney and Lacey. I could go on: Chico and the Man, Jake and the Fatman, Evans and Novak, etc.
It's an unbroken rule, near as I can tell, but Wikipedia is concerned we might not catch on. Hence this important explainer in the John Landis article:
Landis is due to direct Burke and Hare, based on the true story about the famous body-snatchers Burke and Hare.
Of course, maybe it's not the movie name that will throw us off. I see the historical images of Burke and Hare, the ones you see above, have to be labeled "Hare" and "Burke." Perhaps they were so elusive people constantly mistook them for others – maybe that was why it took so long to catch them, that Scotsmen would see them carrying off a body and say, "Ach, aren't yeh McDougall and Hamilton?"
I also see John Landis is going to direct a movie called "Some Guy Who Kills People." Hard to tell what that's going to be about.