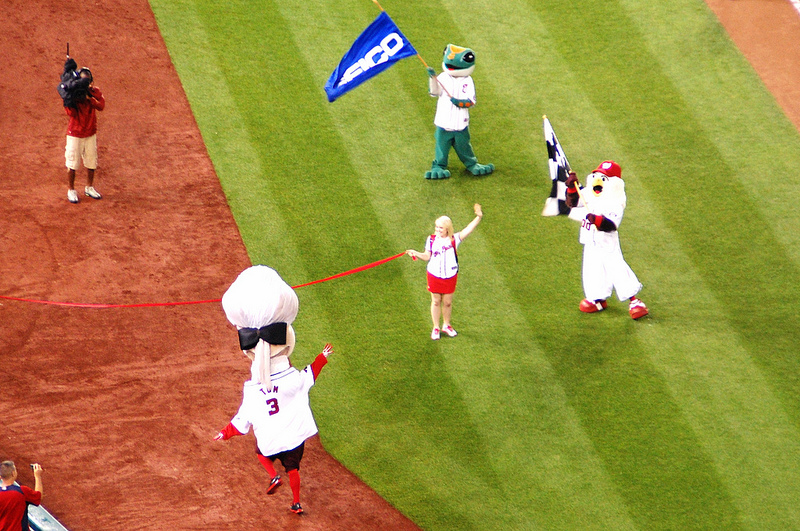 The standard line on Thomas Jefferson comes from a writer called James Parton, who said president number three could "calculate an eclipse, survey an estate, tie an artery, plan an edifice, try a cause, break a horse, dance a minuet, and play the violin."   I read this, and remembered this list of accomplishments when I was a kid – but until today I'd never seen the dancingest Founding Father in action.
The man can dance, folks.
Today was the first day of my return trip to Washington, a trip originally planned as the first filming trip for the TV show but is now a research trip for the book. I'm going to revisit some of the spots from last September's trip, but I'm also going to see some sights I didn't get to see last time, which I'm really excited about. (Not on the list, in case you're wondering: the White House, which is closed to tours because of sequestration.)
I started the day off rather slowly, given that I always take the earliest possible flight out and then spend the rest of the day cursing myself for doing so because I'm so blasted tired. It's a bit fuzzy – I think I saw a bit of the Mall, and actually went in the National Archives, but mostly I just got situated, buying plenty of sunscreen to avoid any burn mishaps like the one last fall.
But my big plan of the night was to head over to Nationals Ballpark and see the hard-charging Washington Nationals take on their neighbors/interleague rivals, the Baltimore Orioles, in a veritable "Battle of the Beltways." Baseball fans know that the Nationals play up their capitol connections big; they do trivia contests on the big screen (tonight's unlucky player found out that the "first lady of baseball" was not Florence Harding but Grace Coolidge), the pre-game video montage shows a number of presidents throwing out the first pitch (at Senators games, but close enough), and, of course, during every home game the Nationals' Racing Presidents come out for a little competition.
But that was assuming there would be a game. I bought my ticket at the ballpark, and the second I swiped my credit card in the automated ticket kiosk, the light drizzle turned into a steady rain; a few minutes later it was a full-on downpour. The giant video screen over center field said something to the effect of "ATTENTION FANS: PLEASE WAIT OUT THE SEVERE WEATHER IN THE CONCOURSE."
This was for safety, of course – but safety has its compensations, too, at least for the proprietors: 35,000 fans spent the next 90 minutes on the two-level concourse, eating everything in sight. And were there ever choices: burgers, hot dogs and fries, of course, but a Mexican grill, a non-denominational grill, a smoothie stand, a gluten-free only stand, and on and on. There's a veggie burger, of course, but just to mix it up there's also a 100% vegan Sloppy Jill ($6).
Oh, also, beer is like nine dollars. I've heard it's sometimes ten. Perhaps they give discounts for those of us in the cheap seats?
There was less variety in the souvenirs – mostly jerseys and hats. I saw a kid wearing a "That's a clown question, bro" shirt but I did not see any for sale, or else toddler Owen might have gotten one. I finally found one shop that had president plush dolls; they are at least a foot tall and absolutely adorable. They are also $36 each and made in China. The Teddy Roosevelt one is my favorite; his mouth is wide open as if he froze in mid-guffaw, and seeing a six-foot row of frozen guffawing is probably going to keep me up tonight.
I was in the soda line when a giant roar informed me that the grounds crew was pulling the tarp away and that there would finally be some baseball. So I made my way up to section 230, not too far from the right field foul pole and with a nice view of the Washington Monument just past the left field foul pole. (It's not physically close, but the Monument is visible from everywhere in downtown DC – had Carlton Fisk hit his home run off the Washington Monument in the '75 World Series, it would have been a hell of a shot, and everyone would have wondered what he was doing in Washington because the game was in Boston.)
My section was relatively empty – few teams draw sellouts these days, least of all for Tuesday night games in May. To my right was a dad in Orioles gear and a boy of about six, who plugged his ears every time the crowd got noisy. In front of me a mom flanked by two boys of maybe eight or 10, who were unfailingly nice to each other and their mom. The older boy took out his cell phone and used the leftover goo on the screen to swipe "I (heart) U" to the mom. Several times. So the next generation might be ok, at least in DC.
I sat a row ahead of four women in their twenties, who were, for lack of a better term, bros. I don't mean this disrespectfully; they were exactly like the packs of four men in their twenties that I usually see at ballparks; they knew the teams, they knew the players, said "dude" from time to time, and so on. When the Nationals brought out the Kiss Cam; one of the women, hoping to woo the camera, turned to her friends and shouted "you guys, let's make out!"
Also spotted in the upper deck: a dude wearing an old-school Andre Dawson jersey, from his Expos days, which was totally excellent, and another dude wearing an old-school Lenny Dykstra jersey, from his Mets days, which, given Lenny's post-baseball history, may qualify as codependent behavior.
And then, just after the third inning, I hear the announcer: "it's time for the running of the presidents!" The big screen showed sped-up, Benny Hill-style footage of the five mascots racing through some historic landmarks, including the William Howard Taft Boyhood Home in Ohio, before emerging from the center field wall and racing down the warning track.
George Washington took an early lead, followed by Lincoln and Roosevelt, but as they approached the right field fence they ran into trouble – trouble by the name of Oriole Bird, who knocked these historic personages silly with ferocious clotheslines. Fourth-place Taft was so incensed by the injustice that he grabbed Oriole Bird and wrestled him to the grass. This earned him cheers from the crowd, but also knocked him out of contention, as the sole remaining competitor, Thomas Jefferson, strolled across the finish line and began his surprisingly funky victory dance.
By the way, all five racing presidents know how to get down – they proved this during the seventh inning stretch, where, after a low-key "Take Me Out To The Ballgame," the stadium played A-Ha's timeless classic "Take On Me" and the presidents tore it up dancing along the foul lines. The crowd hit all the high notes, as you no doubt knew they would.
But the fun wasn't over yet – the big screen said fans could head to the center field pavilion to MEET the presidents! I had bumped into two of my coworkers at the game; they were in town for a conference, and when they heard this news they immediately headed down to the pavilion too – not to get a picture with the racing presidents, but to confirm their suspicions that the line would consist of several dozen kids and then me. Which was exactly the case. I got to shake Taft's hand – twice – meet all five mascots, and see the Nationals hit four homers en route to a 9-3 win.
A fine end for the Nationals' homestand, and a great start for my second DC trip.

(Visited 8 times, 1 visits today)