Fast Company recently wrote about "The Job Interview From Hell," which seems to me a redundant phrase. Is there any mundane event that causes more consternation than a job interview? Aside from the dental visit, of course, which is just cliche to bring up anyway. Can you imagine interviewing for a job at a dental office? Those people must be freaking out to the point of soiled pants. Or not. Maybe they're really brave. Or they loaded up on Novacaine before walking in. Whatever. Why am I talking about this again?
The job interview doesn't actually sound that bad, on the whole; though the interviewee comes off as an overly cocky hothead, certainly:
I go to open the door, I'm going to walk him out, and he says to my engineer, "Good luck with your shitty app." … I say, "What did you just say?" He says, "I said, 'Good luck with your app.'" I say, "That's not what you said. You said, 'Good luck with your shitty app.' He says, 'I'm giving you gold and you're throwing me out the door!' I say, 'I wasn't throwing you out the door before, but now I am.'"
The funniest part here is when the Fast Company writer, David Zax, ends the interview by saying "Good luck with your app." See? That's nicely played.The hothead probably just needed a better business card, anyway.
The interviewee in this Boing Boing article on "the worst meeting in the history of show business" needed better timing for his job interview with then-sitcom writer and now-US Senator Al Franken:
Franken picked up the phone. Here's what I heard him say: "Hi, honey… No, still having meetings. What? CNN? No, why?" He listened for a long moment, and then I saw all the color drain from his face. And I heard him say: "He's DEAD? He's DEAD? Oh my God, Phil – Phil's DEAD? What hap— He was murdered? Shot? What about Brynn? Is she… Brynn shot him? Brynn shot Phil? And she's dead? They're both DEAD???"
As you can guess, this meeting with a potential employer who has just found out about his close friend's murder did not go well, though the interviewee wisely did not wish Franken "good luck with your shitty sitcom" on his way out. But, then, neither did NBC when they launched it. (Zing!)
My own interview stories, taken from both sides of the interview table, rank more in the realm of "huh?" I vaguely remember, years and years ago, discussing a teaching position at an alternative high school with a slightly gruff, slightly Wilford Brimley-ish principal. We shook hands, we sat down, he asked me a question and before I could finish the first word of my answer, he said something to the effect of "Remember, you don't have to be nervous. Stay calm. It's okay." Then he talked some more. I don't remember whether or not I got to finish a whole sentence, but I do remember him telling me to "calm down" like three more times. Maybe the alternative school had been overrun by really nervous students and "calm down" had become his nervous tic? Who knows. I not only didn't get the job, I didn't get a callback about not getting the job, probably because the guy thought I couldn't handle the news.
I also remember an interview I conducted with my then-boss Emily (I only mention her name because it figures into the story). We met with a job candidate who seemed perfectly fine and reasonable – she even sent us a thank you card after the interview. The only catch was that, instead of being addressed to Emily and Brady, it read "Dear Ralph and Charlene…."
Now when I was a kid Brady was a relatively uncommon name so I've had it mangled in every which way – I still get called "Brandy" enough that I haven't been able to get that accursed Looking Glass song out of my head – but Ralph? Emily and I took these as nicknames for the rest of the time we worked together.
Wow. I think I just started writing a really mediocre memoir. Anyway, let's salvage this trip down memory lane with a side trip to Yahoo Answers. User "L Z" has a great tip on how to avoid your own job interview from hell: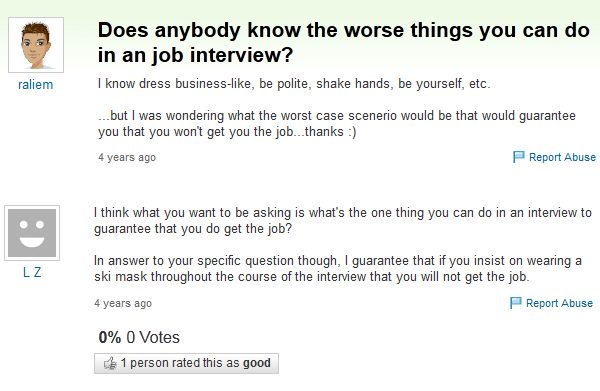 Yep – especially a really shitty ski mask.